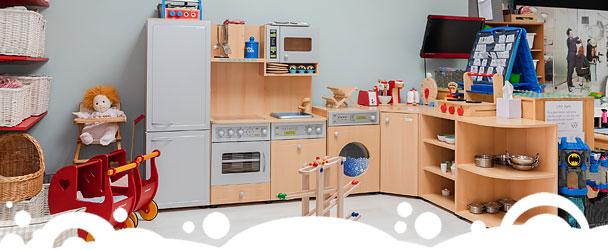 Learning Through Play
At Fingers 'n' Thumbs Day Nursery, every child has a unique combination of interests and talents, most of which are yet to be discovered.
We have invested heavily in the equipment, toys, books and materials necessary to enable a wide variety of activities. In this way we can help each child to discover their personal talents, whilst also ensuring their development in the following key areas:
personal, social and emotional development
communication and language
physical development
literacy
maths
understanding of the world
expressive art and design

Activities are carefully planned to address the specific developmental needs and interests of the children in each of our specially designed rooms. Naturally, there will be occasional deviations from the plan, to take advantage of children's interests on the day for example, but overall this planning process ensures that we have the time and materials available to optimise your child's development and fun!
At Fingers 'n' Thumbs we keep a unique journal for the children, highlighting anything interesting that has happened during their time with us. Each child's developmental progress is recorded regularly as part of their individual story for discussion with you and to ensure that over time your child is reaching his or her full potential. We are very proud of the effort we put into each and every journal and we hope that it will become a longterm keepsake for both parents and child.
During all activities, children are encouraged to care for and respect each other and to become increasingly self-reliant as they learn to dress and feed themselves, and to help tidy up after activities. We aim to ensure that both boys and girls grow up confident and caring.
Fingers 'n' Thumbs have supported my career through further training, which not only helps me but is a benefit to the children.

Sophie Green
Special Needs Co-ordinator
MEET OUR STAFF
We are proud of the following accreditations: