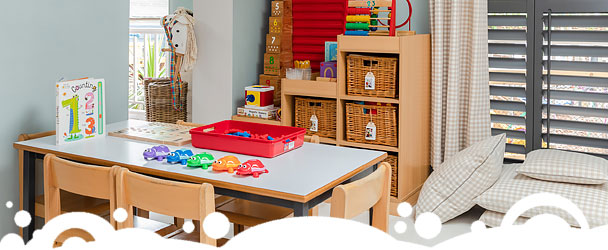 Settling In / First Steps
At Fingers 'n' Thumbs Day Nursery our aim is to ensure the happiness, well-being and development of your child whilst in our care.
We understand that leaving your child for the first time is a big event and can be a stressful and upsetting time for you and your child, so therefore, we try and make this a positive experience and as easy as possible.
We want your child to feel safe, stimulated and happy at our nursery and for them to build trusting, secure relationships with our staff. We also want you as parents to feel confident in both your child's well-being and the knowledge and experience of our professionally trained staff.
During the half-term before your child is enrolled we will offer you and your child the opportunity to attend 'settling in sessions'. This experience is invaluable and will enable us to begin to build important relationships with you and your child.
Settling in is a gradual process and you are welcome to stay at Fingers 'n' Thumbs for as long as you like with your child during the first week, until you are satisfied that they have adapted to the new environment and are settled. This will help you feel more comfortable and confident in leaving your child for longer periods of time.
We judge your child to be settled when they have formed a relationship with our staff. For example, your child looks for a key person when they arrive, goes to them for comfort, and seems pleased to spend time with them. We also look for your child to be familiar with the nursery environment, know where things are and are pleased to see other children and participate in activities.
We do not believe that leaving your child to cry will help them to settle any quicker and that the distress will prevent them from learning and gaining the best from our nursery. On leaving your child, we encourage you to promote a positive experience by saying goodbye and explaining that you will be coming back to collect them and at what time.
We also encourage you to talk to our staff and they are willing to help you through any difficulties or answer any questions you may have.
I set up Fingers 'n' Thumbs 20 years ago with the aim of offering good quality childcare at affordable prices, in a stimulating and enabling environment.

Denise Jones
Owner & Manager
MEET OUR STAFF
We are proud of the following accreditations: