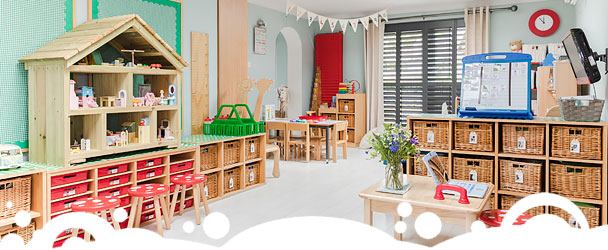 A Fun, Safe Environment
Fingers 'n' Thumbs Day Nursery is registered to care for up to 20 children and operates from comfortable, secure and meticulously clean premises in a residential area in Southbourne, a small town on the outskirts of Bournemouth.
Our rooms are modern, spacious and bright, allowing lots of natural daylight in. We have invested heavily in the equipment, toys, books and materials necessary to enable a wide variety of activities and make every child's day fun and educational.
Each room has been specially designed for small children to enable them to explore and move around their environment freely. We provide a range of activities, sensory equipment and different natural material that will stimulate and encourage their development. All activities are carefully planned, prepared and appropriate for each individual child's age and stage of development.
The safety and security of children is of paramount concern at Fingers 'n' Thumbs and we operate a range of procedures to ensure that access to our premises is restricted to staff and parents. With this in mind we operate a coded door entry system to protect children and nursery staff.
Opening hours are Monday to Friday: 08.30am to 17.30pm.
I set up Fingers 'n' Thumbs 20 years ago with the aim of offering good quality childcare at affordable prices, in a stimulating and enabling environment.

Denise Jones
Owner & Manager
MEET OUR STAFF
We are proud of the following accreditations: