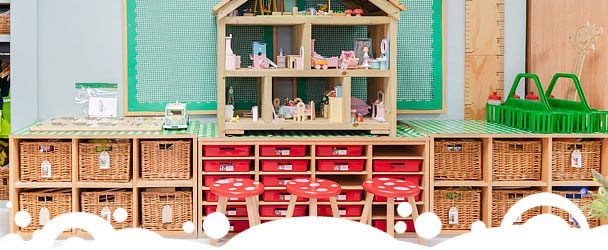 Why Fingers 'n' Thumbs?
At Fingers 'n' Thumbs, we understand that leaving your child for the first time in Nursery is a big event and can be a stressful and upsetting time for you and sometimes, your child, so therefore, we try and make this as easy as possible.
Benefits for your child
Each day at Fingers 'n' Thumbs is carefully organised to ensure your child receives the best learning opportunities in a safe, fun and caring environment whilst ensuring we meet the individual social, physical and emotional needs of each child.
We realise the individual needs of children are very specific, so we have taken great care to make sure that our nursery is perfect for your little ones, providing the best layout and facilities to enable children to enjoy their time at Fingers 'n' Thumbs.
Our Nursery is fun, bright and attractive to children, with areas for active play, eating, sleeping and quiet times. All equipment, furniture and facilities are specially designed for children; from tables and chairs, to toilets and wash hand basins. We pride ourselves in the quality, cleanliness and diversity of our facilities and resources.
Benefits as a parent
Our nursery staff understand the importance of building a trusting, confident relationship with parents and carers from the very first day, to ensure they meet all the diverse needs of both the parent and the child.
Good communication between our staff and parents is vital. We provide each child with a well presented and comprehensive journal of their time and experiences at Fingers 'n' Thumbs. This not only ensures you share in their triumphs, successes and milestones whilst in our care, but makes an excellent keepsake for years to come. We also encourage you to talk to our staff and they will answer any questions you may have.
Don't just take our word for it
Why not arrange a visit to Fingers 'n' Thumbs to see our facilities and experience the benefits for yourself, simply call us on +44 (0)1202 423044, email .(JavaScript must be enabled to view this email address) or visit our Facebook page.
The children have really good learning opportunities and the environment is a great place to work in.

Rachel Bailey
Key Worker
MEET OUR STAFF
We are proud of the following accreditations: